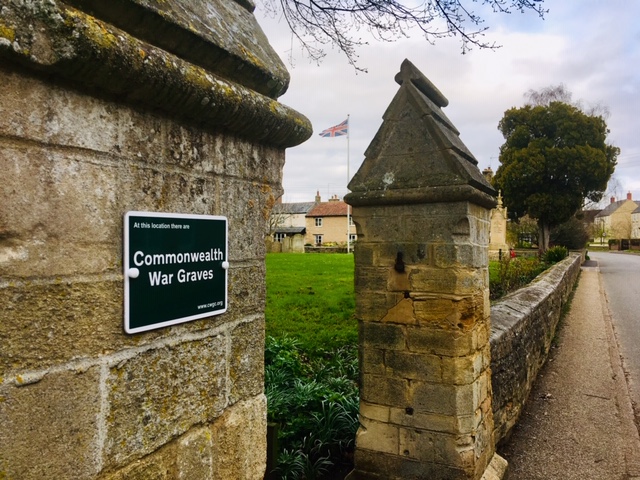 There are three Commonwealth War Graves in the churchyard of St Mary the Blessed Virgin, Warmington. Two have the conventional CWGC headstones but the other is a family headstone. They are all at the west end of the churchyard.
LEONARD THOMAS BOSWORTH
Leonard Thomas Bosworth was born in Warmington in 1889 and baptised on 13 December 1890, aged one and a half years, at the Church of St Mary the Blessed Virgin, Warmington by Rev Berkeley. His parents were John Thomas and Mary Ann Bosworth and his father was a carpenter. In 1911, Leonard was living with his grandfather, David Bozeat, and brother Reginald in Warmington.
Leonard married Ada Louth in Polebrook on 29 July 1914 and they had a daughter, Beatrice Ada Mary Bosworth, born 18 January 1915. They lived at Lutton Road Cottage, Polebrook. When Leonard enlisted on 10 April 1916 he was a gardener. Leonard was a Private in the 2nd Middlesex Regiment, Regt No G/2534.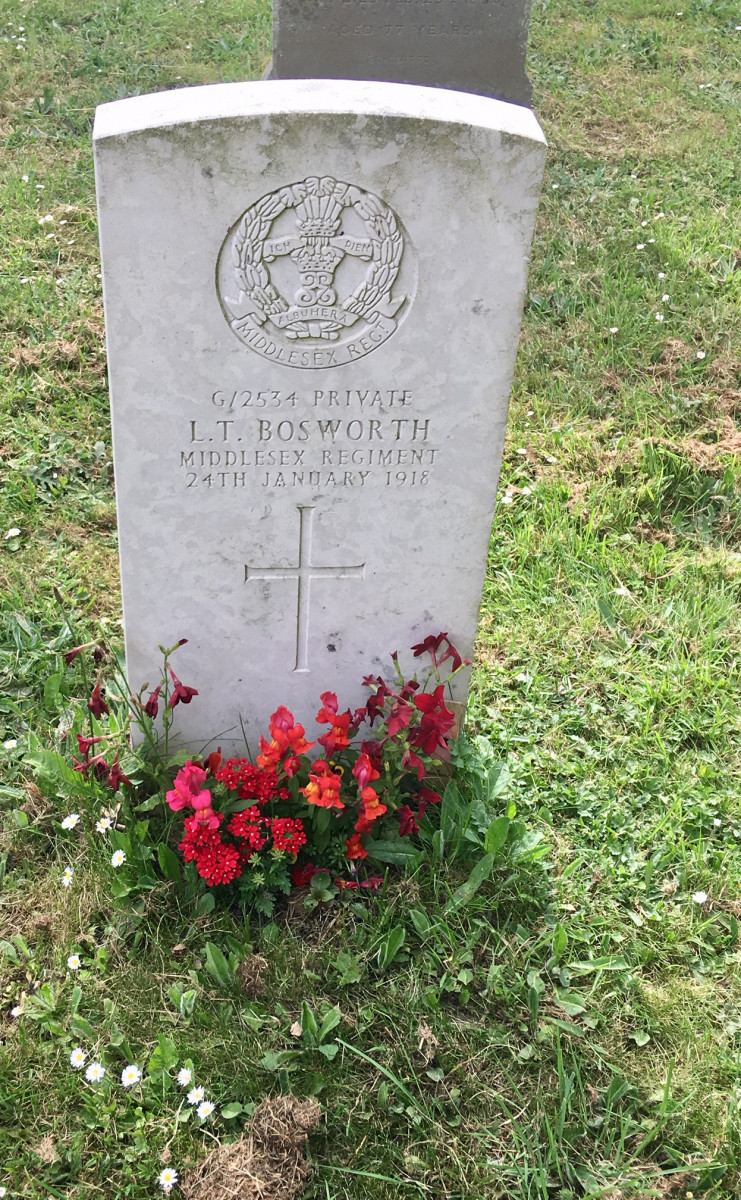 Headstone of Private Leonard Thomas Bosworth (photo taken June 2019)
Leonard was admitted to 2nd Great Western Hospital, Heald Place, Manchester on 28 April 1917 suffering from osteomyelitis. No military record is available to show whether this was a result of wounds or not. Leonard died at 10.25 am on 24 January 1918, having been a hospital patient for 272 days. He had a torturous end to his life and the short medical records make for difficult reading.
Leonard's widow, Ada, had suffered bereavement seven months earlier with the death of her brother, Arthur Louth. Arthur had also been a gardener before he enlisted in the 8th Battalion, Border Regiment. He was killed in action on 14 June 1917 and is commemorated on the Ypres (Menin Gate) Memorial.
Ada married again in 1920.
JOSEPH MOORE
Joseph was born in 1890 in Cotehill, Cumberland. In the 1911 census, he was a police constable with Great Northern Railway and was lodging at 34 Leverton Street, St Pancras, London. At the same time, Mary Ellen Negus (from Warmington) was a cook and living at 1 Holly Terrace, West Hill, Highgate, London. They married on 1 January 1912 at St Michael's Church, Highgate, Camden, London which was Mary's parish church. Joseph was a railway policeman at that time.
Joseph's wife was born in Warmington and she had three brothers who are named on Warmington's Roll of Honour.
Joseph enlisted in the Machine Gun Corps on 31 October 1918 and at that time his address was 16 Balfern Street, Battersea, London SW11. His military documents show that he was 6 ft 3¼ inches tall. He was posted for training at Rugeley but was admitted to Cannock Chase Military Hospital on 2 November and died there on 15 November 1918. The cause of death was pneumonia.
Joseph's widow, Mary Ellen, married Alexander Thomas Miller at Wandsworth in 1924.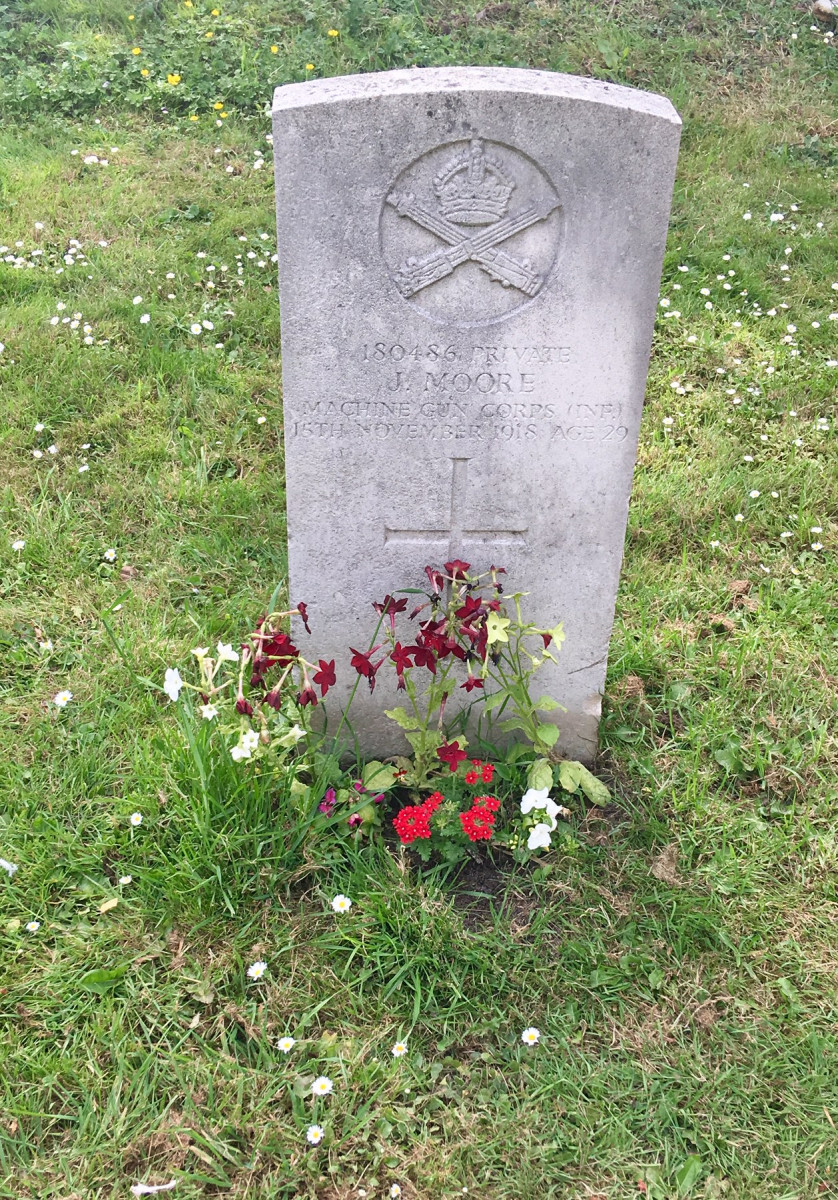 Headstone of Private Joseph Moore (photo taken June 2019)
HUGH VICTOR TURNILL
Hugh was born in 1897 in Ashton, Oundle. He was baptised on 28 April 1897 in Oundle. His parents were Anthony Mildmay and Katharine (nee Fowler) Turnill and his father was a farmer in Ashton. Hugh was a pupil at Laxton School, Oundle. His father died in 1902 and in 1911 the family lived at Springfield House, Warmington: Katharine Turnill (his mother), Christopher Turnill (his grandfather) and his three brothers – William Mitton Turnill, Willoughby Robert Turnill and Eric Mildmay Turnill.
Hugh joined the Honourable Artillery Company on 30 December 1915 and arrived in France on Christmas Day 1916. He was wounded in action on 15 March 1917 and travelled back to England on the Hospital Ship SS Brighton. He died at 3.00 pm on 15 April 1917 at York Military Hospital, aged 20. His grandfather, Christopher Turnill, died six weeks after that. Hugh is buried in Warmington churchyard with his parents. His Turnill grandparents are buried in the neighbouring grave. There is also a marble plaque in the south aisle of the church in his memory.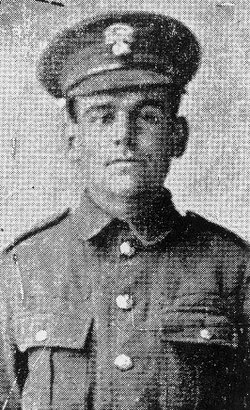 Private Hugh Victor Turnill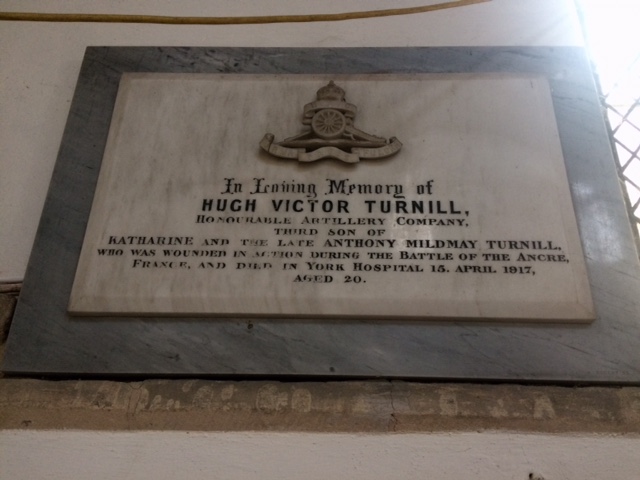 Plaque in memory of Hugh Victor Turnill in south aisle of the Church of St Mary the Blessed Virgin, Warmington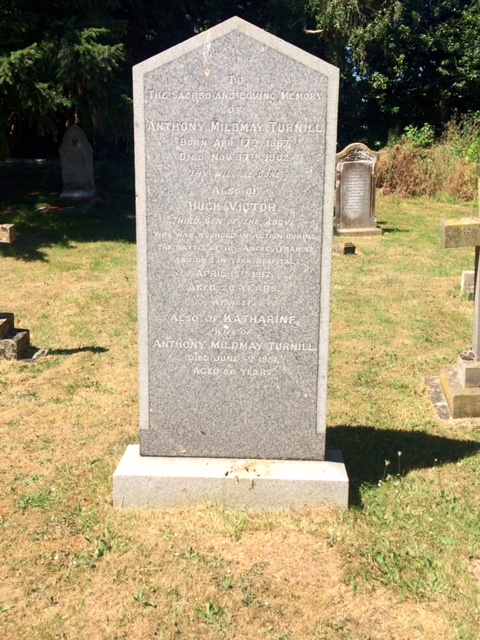 Turnill family grave, including Hugh Victor Turnill (photo taken July 2018)